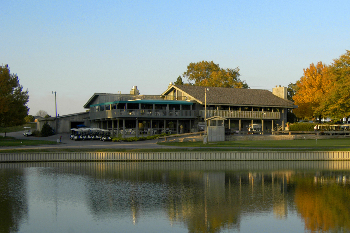 Pro Shop
Inside the Willow Creek Pro Shop, you'll find a great selection and competitive prices. The Pro Shop offers an excellent selection of the latest models of clubs from manufacturers such as Titleist, Callaway, Ping and TaylorMade. Our sales associates are certified club-fitting experts, committed to matching the right equipment to your swing. That's why, before you buy, you're encouraged to try out the club on the driving range. Apparel and accessories—You'll find a full line of quality sportswear, logo wear merchandise, golf shoes and accessories in the Pro Shop, along with the latest in clubs and bags for rent or purchase.
Bar & Grill
Ready for a break? Remember, the clubhouse features a full-service bar and deli sandwiches, burgers and snacks with seating indoors or outdoors on the patio overlooking the course. The bar & grill is open daily from 9:00am to 30 minutes after sunset.
Conveniently book your tee time online today!
Driving Range
Willow Creek's driving range offers 5 acres of grass tee lines on 20+ acres to hit the ball as far as you would like with targets at 100, 150, 200 and 250 yards. It features a practice putting green and a pitching green all offered with brand new golf balls. Small buckets run $8 for ,$10 medium , and $12 large .
This makes for a great practice facility for all ages and abilities, from the beginner who wants to learn the game to the professional that wants to tighten up their game.